In April 2020 the new EN 407:2020 standard on protective gloves against thermal risks entered into force, updated from the former EN 407:2004.
EEN 407 is the main standard for all safety gloves designed to provide protection against contact heat and flames.
What's changed in the EN 407:2020 standard?
Also applies to arm protection equipment
Also applies to kitchen and household equipment (oven gloves, barbecue gloves, potholders)
Must now have at least 10 N tear resistance (level 1) to be certified to EN 407:2020
New minimum total length (different according to size) to be tested against "small molten metal projections"
Introduced new test methods to measure burning behaviour, resistance to contact heat, convective heat, and large quantities of molten metal
Introduced a specific pictogram for gloves with limited thermal protection
If the glove has not undergone a burning behaviour test or does not meet level 1, the new standard specifies use of the following pictogram. The tests to be performed for this standard are therefore:
(A) Burning behaviour; (B) Contact heat; (C) Convective heat; (D) Radiant heat; (E) Small quantities of molten metal; (F) Large quantities of molten metal.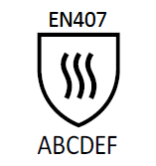 EN 407:2020 is fully in force from 1 April 2020
Protective gloves that are already certified to the EN 407:2004 standard do not need to be immediately recertified with the new tests; the former standard will remain valid until the natural expiry date of the existing certification. However, new gloves introduced to the market must be certified to the new EN 407:2020 standard, together with the new UNI EN ISO 21420 standard which defines the general requirements for protective gloves and the relevant test procedures for their design and manufacture.
To receive the "Protective gloves against thermal risks – EN 407:2020" documentation with details of the new EN 407:2020 standard, send an email to info@lanzigroup.com